A TAUS White Paper: The Pros and Cons of Blockchains in L10n Workflows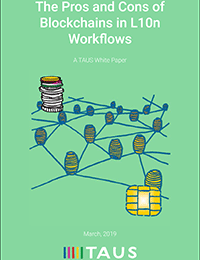 What is a blockchain? What are smart contracts? What do blockchains and smart contracts have to do with L10n?
Blockchains and smart contracts could have significant impact on today's L10n workflows. Even a conservative implementation of blockchain technology into current L10n workflows could facilitate handoffs of source texts, their translations, invoices, and payments between a company requiring translations and LSPs and LSPs and their translators. A radical approach using blockchains could completely remove LSPs from translation processes and workflows.
This paper describes three L10n workflow models:
The current As-Is workflow
The As-Is workflow augmented with a blockchain and a smart contract foundation
A workflow that shrinks, if not eliminates, the role of LSPs, and where companies with translation needs engage translators directly