Measuring Translation Quality
From Translation Quality Evaluation to Business Intelligence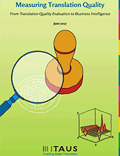 The diversification in content types and rapid adoption of translation technologies (including machine translation) drives the need for more dynamic and reliable methods of quality evaluation.
In this white paper we show that you can smoothen the quality evaluation process by:
preparation;

the use of industry standards and metrics, and;

using a dynamic approach toward content and workflow integration.
Together with the TAUS best practices and the Quality Dashboard, this white paper will help companies solve their quality management problems by ensuring consistency, increasing efficiency and flexibility and, allowing you to see how you perform compared to your industry peers.